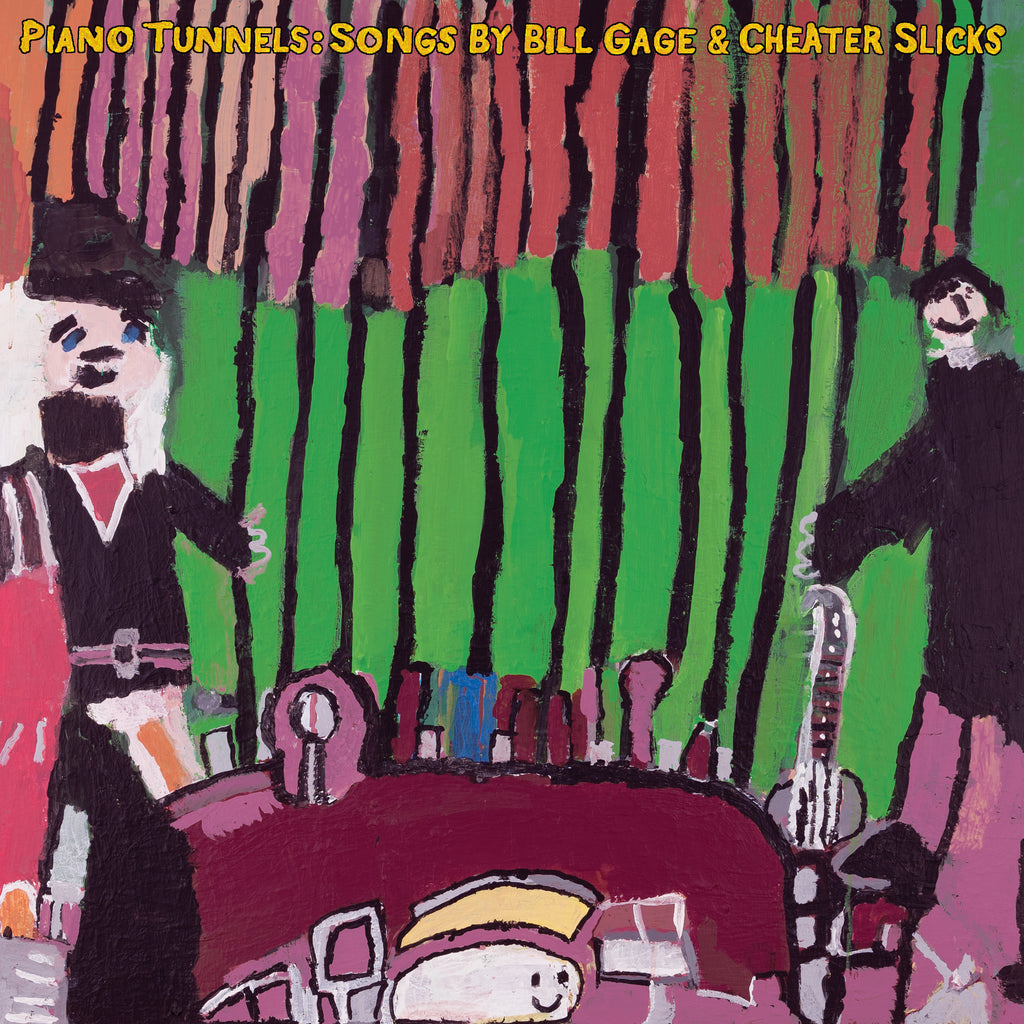 Piano Tunnels: Songs by Bill Gage & Cheater Slicks - LP
$ 24.00
Starts shipping October 2021
Limited edition on color vinyl. First come, first served. No guarentees.


Bill Gage is a quasi-famous singer with a raw, rock 'n' roll voice. Cheater Slicks are an infamous, raw, rock 'n' roll band. Put the two together and the resulting album is a stream-of-conscious stew of wild, fuzz-drenched rock 'n' roll! 

All profits from this record will benefit the Arts Resources programs of the National Association for Down Syndrome. Comes in limited edition on beer colored vinyl.

Some history:
both Cheater Slicks and Bill Gage's band BILL began in Boston in 1987, and it was sometime around then that Gage first sang with Tom and David Shannon playing guitars, in Gage's bedroom in Laconia, New Hampshire. It was an intense and primal sound that was not forgotten by those involved.
Gage's singing has been compared to Captain Beefheart, David Thomas, Damo Suzuki, and Yoko Ono. However, Gage clearly has his own sound, which includes guttural yells, sweet crooning, and bluesy meanderings—all seemingly told from a tarpaper shack porch under the oceans of Mars.
Cheater Slicks have from the start been a brain-melting rock 'n' roll dream / nightmare of a band. Steeped in the wild guitar interplay and pounding drums of classic noisy underground rock groups (Cramps, Scientists, Velvet Underground), they have created their own unique and ever-evolving style that has only gotten deeper and sharper over the years.
In spring 2018, when Cheater Slicks were presented with the idea of a collaborative record with Gage, they wasted no time, and began writing and arranging new songs for the project. Gage traveled to Columbus to record at the legendary Musicol studios in November of that year. It was a great session and came together as if it were always meant to be. After thirty years of performing, is the world finally ready for Bill Gage—accompanied by the seismic Cheater Slicks?